Former Rev Fr Simon Lokodo Uganda's Minister for Ethics and Integrity has today emphasized government's commitment to continue to condone homosexuality in the country.
While addressing press at the government media center Lokodo said "The government of Uganda will continue to condone promotion any form of LGBTI lifestyle."
"We wish to emphasize that whereas the promotion of homosexuality is criminalized under the Penal Code, there is no violence against the LGBT community in Uganda – contrary to some claims made loosely by proponents of this movement." Lokodo said.
He added that "On Thursday 4 August, a group of LGBT members assembled at Venom Pub, Kabalagala, for a meeting without police clearance. Uganda Police was subsequently alerted and the assembly was disbanded and the participants cautioned. No one was hurt or injured during the exercise."
This is however not true one man was injured and two if his vertebrae broken when he tried to flee police brutality by jumping off the 6th floor of the building where the club is located. Sexual Minorities Uganda Executive Director Dr Frank Mugisha and SMUG Programs Director Mr Pepe Julian Onziema and other LGBTI persons were also beat up and tortured when police arrested them and locked them up at Kabalagala Police station.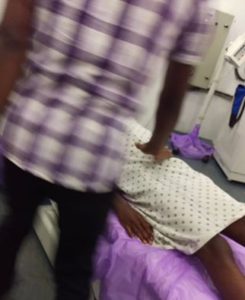 The victim that was injured trying to flee police brutality.
Those that were locked up at Club Venom were put at gun point, forced to sit on the ground and have their photos taken by journalists. Police also beat up transwomen and transmen were beat up and touched inappropriately as officers of the Uganda police force tried to establish their "real gender". They also pulled at transwomen hair saying "What is this? This is women's hair, you are a man."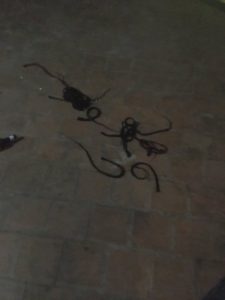 Braids that were pulled off transwoman's hair by Police.
Mr Pepe Julian Onziema says "What Fr Lokodo is denying about LGBTI persons not being tortured is not true, I was beat up while at the police cell and I lost hearing in my left ear."
Dr Frank Mugisha says while at the cell we were forced to share one dirty basin and a small piece of soap to take a bath. "Pepe was beat up because he allegedly did not take a proper bath. They were then forced to clean the filthy bathrooms."
Injury or hurt is physical and emotional. LGBTI persons in Uganda remain emotionally injured. There are also many other physical injuries that have not yet been reported.
Simon Lokodo reiterated that; "Government will continue to suppress any public activity that is intended to promote gays" calling the public to refrain from engaging in any LGBT1 event."
"In our society, our African values and cultures consider sexual activity to be private and personal, and it is not conducted in public. Certainly, neither is homosexuality. It is for this reason that the promotion of 'gay' activities is unwelcome. In addition, we have noted that the promotions being held are aimed at mobilizing people to join this LGBT movement, which interestingly goes against the argument that gays are "born" that way. Says Lokodo.
He adds "Protect the cherished cultural, legal, religious, and traditional family values of the people of Uganda against the attempts of sexual rights activists seeking to impose their values of sexual promiscuity." "Protect the children and youths of Uganda who are made vulnerable to sexual abuse and deviation as a result of cultural changes, uncensored information technologies, parentless child developmental settings and increasing attempts by homosexuals to raise children in homosexual relationships through adoption, foster care, or otherwise."
Lokodo concluded by stating that "A program to rehabilitate members of the LGBT Community, with the ultimate aim of giving them a chance to lead normal lives again has been developed."
Simon Lokodo addressing press in Kampala.