Alina Talent in collaboration with Uganda People's Defense Forces-UPDF first division have launched a campaign code named 'Soldiers for Life' was launched on Friday afternoon in Wakiso District.
The one year campaign is aimed at preventing secondary school students from contracting the HIV virus through abstinence.
Speaking at the function, the UPDF Chief Political Commissar ,Col Felix Kulayigye said  that the Ugandan army having succeeded in all missions both home and on foreign land; could not sit back as  people back home died of illnesses they could help fight.
The acting Director in charge of HIV AIDS in the UPDF Capt Solomon Kandole urged students to emulate soldiers on missions by abstaining from sex which is the primary cause of the virus.
Aloysious Matovu Joy the director Alina Talent an entertainment group gave a testimony about how he discovered he is HIV positive. He was however quick to add that his wives and children were not infected by the virus.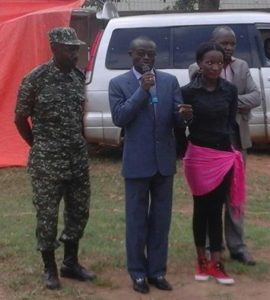 Alina Talent Director Aloysious Matovu Joy( holding microphone) addresses the gathering.
His entertainment group also showcased a play demonstrating ways in which HIV can be passed on among teenagers; in one of the scenes the matron is seen running to the school Director's office where she reports cases of homosexuality among boys and girls in the school, the school director advises her to expel the culprits quietly. He says "Make sure that parents do not get to know about this because they will remove children from my school and this will cause me a loss because they will stop paying school fees." One of the girls that was involved in same sex relations is brought into the School director's office and this time she is being accused of having sex with a boy.
The school director excitedly licks his lips and tells the girl to see him later.
At this point we are introduced to a scene where the school director after a musical condemns homosexuality. He says "Homosexuality is satanic. The Bible, The Holy Koran and even Traditional Healers do not accept homosexuality.
Another scene begins and the school director is seen asking a male teacher a male teacher for a "Kaveera" (slang to mean condom) the teacher says he doesn't have one. The headmaster decides to go ahead and have sex with the female student without a condom.
The play comes to a climax when students and teachers rise up against the school director for having sex with an underage girl.
Throughout the duration of the campaign, UPDF and Alina Talent will go to selected secondary schools in Buganda, Busoga and Bunyoro giving where the entertainment group will stage the two hour play illustrating the ways in which students can get infected with HIV virus. They will also carry out Voluntary counseling and testing for HIV,blood donations and testimonies where people living with HIV will tell stories on how they got infected and how they are living with the HIV virus.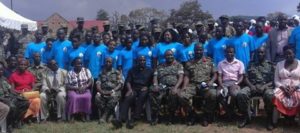 UPDF 1st Division and Alina Talents pose for group photo after "Soldiers For Life" Launch