Sexual Minorities Uganda – SMUG today joins the family and friends of Austin Bryan as he celebrates his 21st Birthday.
Austin spent a whole year starting from June 2015 – June 2016 as a Research Intern in the Department of Research and Documentation at SMUG. Working closely with the Research and Documentation Officer Austin was a great resource of support to all departments at SMUG. His free style and diligence when handling matters of work made this brilliant young man, a darling for all staff at SMUG.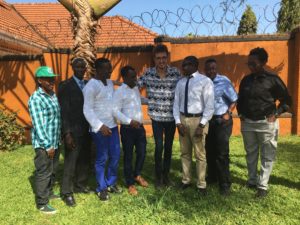 Working closely with the Research and Documentation Officer, Austin was very instrumental in the writing of our latest human rights violations report "And That's How I Survived Being Killed", he worked closely with the REActors in gathering the materials that later constituted the final report.
Behind the scene he worked closely with the Pride Uganda 2015 coordination team, in ensuring a successful pride that year. He supported the development of "I am other", a project that is aimed at amplifying the voice of LGBTI persons in Uganda through photography. The list of his achievements is endless.
We wish Austin a happy birthday and a fruitful life ahead of him as he pursues his studies at University.