Sexual Minorities Uganda-SMUG in partnership with Amnesty Denmark held an online meeting with LGBTIQ people and health workers from various parts of the country. The meeting was meant to discuss,  Health, Communication and Security during the COVID-19 pandemic .While giving the opening remarks, Dr Frank Mugisha the Sexual Minorities Uganda Executive Director thanked the participants for joining the meeting, and Amnesty Denmark for the great partnership with SMUG noting that they have been our biggest supporters since the inception of SMUG. He said the workshop would mainly be about health because although there have been lots of intervention, the community needs more direction on what health services are available in times of COVID-19. He mentioned that the workshop would also address the many human rights violations as a result of COVID-19 and the mental health issues that may arise due to COVID-19. He urged the participants to engage in peer to peer model for mental health support.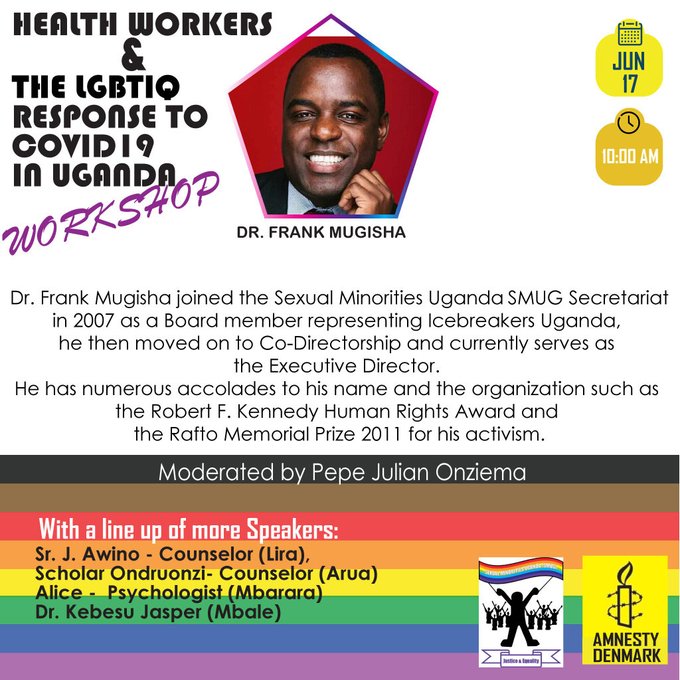 In her presentation, Helle Jacobsen who is Managing Amnesty's work on Gender for both their European  Institutions and London headquarters said "Government should ensure equal health care for all people, including those in need of non-COVID-19 related treatment, medication and access to other health services, including hormone therapy and gender affirming surgeries, ensure that any efforts in providing food security, economic stimulus and relief packages must reach marginalized and vulnerable populations, including LGBTI people working and living under precarious conditions." She also urged the government of Uganda to ensure provisions which allow those facing domestic or family violence to access justice, support and services, including helpline facilities to report incidents of violence adding that government  must ensure that shelters are designated as essential services and are kept open and are easily accessible by LGBTI people facing domestic violence.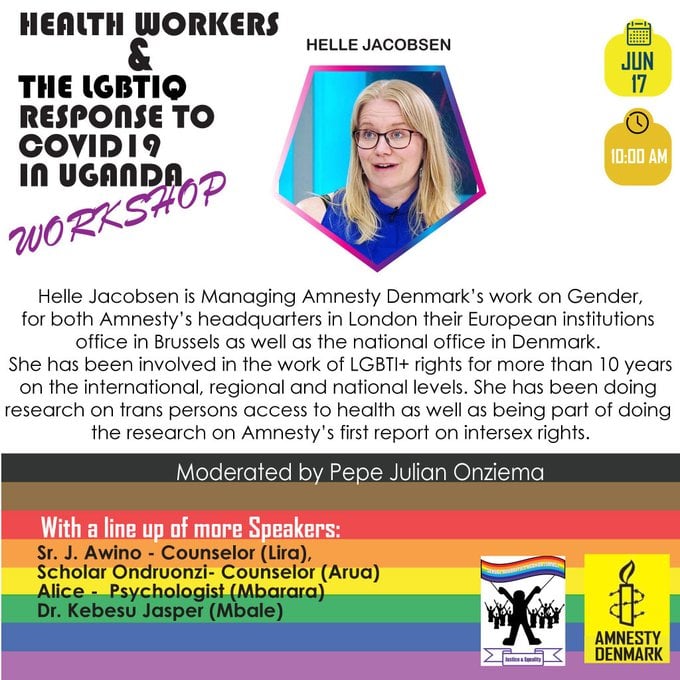 During the second session focusing on mental health & safety, Clinical Psychologist Arthur Simon Ndaula spoke about the changes he has gone through as a psychologist. He said, during the first month of COVID-19 lockdown he was disoriented & had difficulty working with patients. "I wasn't able to move around which brought in occupational uncertainty. Most of my clients were not willing to use any form of technology because they preferred to have one on one sessions."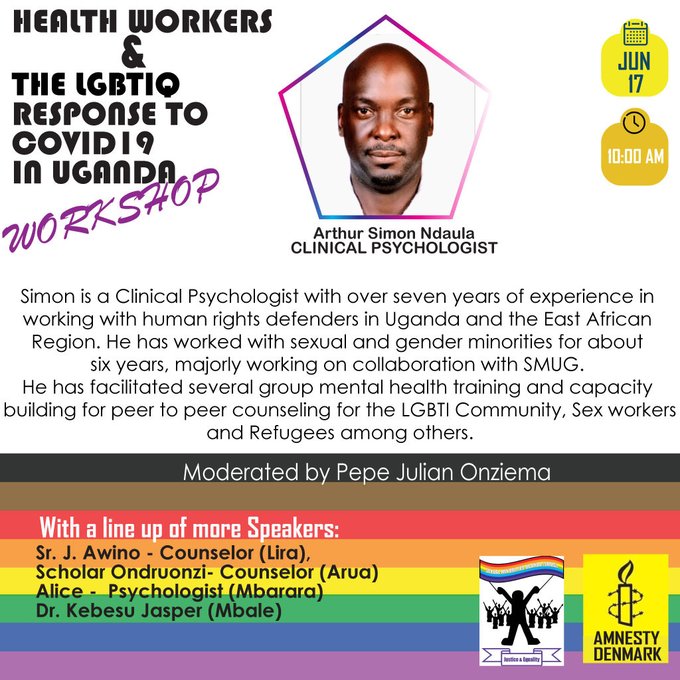 Ayesiga Herbert the Programs Director Icebreakers Uganda-IBU noted that during the lockdown many LGBTIQ people have been forced to live with their toxic families and partners this has exposed many to mental health challenges. He added that Lack of finance poses a great challenge to mental health care because many LGBTIQ people cannot afford to pay for mental healthcare. Herbert noted that the 20 transwomen and gay men who were incarcerated for 50 days after they were arrested from a homeless shelter are currently receiving psycho-social support under IBU in terms of group therapy sessions and so far they have conducted assessments and 2 group therapy sessions of 10 sessions to happen.
One of the participants noted that it is important to engage with mental health facilities like Butabiika just like how it was done for ART clinics and conducting more awareness raising activities about mental health and available.
Arthur Mubiru the Administrator  at Freedom and Roam Uganda said "The COVID outbreak has affected a lot of my operation plans for the year and day today living. Being locked down has prohibited me from meeting my clients physically and this affects assessment. I'm not able to continue with my law course due to the lock down of all institutions of learning. I am mentally disturbed as I keep thinking of what next, how and where to get funds for my house rent, how to sustain my people I stay with at home. I wonder, will the situation get back to normal? All these keep me in a very unstable state. Right now all we need is a sustainability plan. We need to do something that can keep us busy and enable us sustain our selves without harming our existence.I currently make sure I have airtime to answer all calls I receive from my peers who are asking for assistance. They have a lot of expectations but I manage to handle them to a better state of mind and meaningful harmless decision making." Arthur added that Generally there has been an increase in cases of gender based violence and intimate partner violence caused by over staying home and being jobless. Discrimination from family members who do not accept their (LBQ) sexual orientation or gender identity. There is hardship in accessing monthly ART treatment for LBQ women living with HIV and this has affected adherence which we had previously amicably handed. There is lack of food since most of us fend for ourselves and right now we are not working. This has affected people on ART and the entire LBQ fraternity. This has driven people to depression and other unhealthy decisions. Unfortunately many Transmen have become homeless and helpless."
"The fact that the West Nile still being under total lockdown, it's not easy for us to carry on with our work, there's a lot of stigma and discrimination, transportation issues and constant battles with the police during curfews especially while delivering ART refills. The total lockdown has also led to serious substance abuse and increase in IPV."-Acidri Innocent co-ordinator Westnile Rainbow Initiative.
Another participant noted that "I feel like the stress and strain on caregivers of infected and terminally ill LBQ people has increased. This has led to more conflict within families. Many of these people have nowhere to turn when they are burnt out. I also have seen that more family time has resulted into outing some people especially those in close knit families. This has also led to strive and family conflict."
Technical team that coordinated the online meeting.
A doctor from Lira, Northern part of Uganda noted that they have had challenges with clients not being able to pick up their ART and PrEP refill but they assigned different peer leaders to distribute drugs to their different peers. He said during the lockdown they continued working but with fear number.
A health work from Lira said "Personally not much as affected me but the only problem was with the issue of food since some clients were still on old ART regimen that requires someone to eat food. Some clients dropped out but we continued counseling through the peer based program and sometimes we contributed money to buy food for some few, but we couldn't help all because we had female sex workers who are also breastfeeding mothers who also needed food badly.It's truly challenging."
"My suggestion to organizations and individuals giving counselling to LGBTIQ persons is that we take documentation especially of arising themes in the time of COVID seriously. I understand that there are always those constant/ constant themes but there should be unique ones arising now. Reporting is key as it shall assist in programming along the arising issues. Mental Health programming has always been ignored by organizations and donors with no data to back it up. Let us document and share data as well. We also need to support each other in doing this work." Said Tinah P'ochan.
In the third session the Sexual Minorities Uganda Communications and Information officer Phyllis Wanjiru shared with the participants tips on digital safety/virtual communication.
https://sexualminoritiesuganda.com/digital-security-and-the-lgbtiq-community-in-uganda-covid-19-safety-tips/
While giving his closing remarks, Dr Frank Mugisha said that the key issues highlighted in the meeting will be used to respond to community needs.