Sexual Minorities Uganda visited and held dialogue meetings with three membership organizations in the Eastern Region of Uganda. These organizations include Triumph Uganda, Eastern Region Women's Empowerment  Organization – ERWEO, and Holistic Organization to Promote Equality-Hope Mbale.
Sean Awali the Executive director hope Mbale thanked SMUG for including the organization in all aspects of programming. He SMUG was Triumph Mbale's first ever partner that guided them until the organization got their  first ever funds after consultation with our PD Pepe Julian Onziema. "I remember coming to SMUG without appointment but Pepe agreed to meet with me, he advised me on where I could apply for funding and true to his word we received those funds from Rapid Response and were able to rent our first ever office space." Sean added that they still encounter financial insufficiencies, and urged SMUG to endorse and guide them on how they can get more funding  so they can implement more activities within Mbale.
Richard Lusimbo our Research and Documentation Officer commended  Triumph Mbale ED and his staff for the work well done, " The work you are doing here is important, if you stick together and support each other potential partners will see your efforts and will support you, communication is a two way journey and it is important for all of us to share feedback especially after meeting potential partners we recommend to you so we can know the progress of your advocacy work."
Sexual Minorities Uganda Programs Director Pepe Julian Onziema while speaking to Triumph Mbale Executive Director said; "To see the staff here work as unpaid volunteers takes a special individual with an amazing personality to be their team leader. Everyone in your organization is talented, keep on supporting them and building their capacity. Do not forget your humble beginning and the passion that is reflected by the organization's vision." He added that SMUG will continue to support Triumph Uganda in their work including endorsing them to partners who can support the organization.
Maria Nantale the Executive Director Eastern Region Women's Empowerment  Organization-ERWEO heartily welcomed the SMUG team to their premises. "I am so happy to finally have you all here at our organization. We are happy to take you around so you can see the different initiatives we have in place."
Sharp the clinical officer ERWEO informed us that they now have a kit that can easily do on spot HIV and STI testing. "This kit enables us to quickly diagnose and either refer or provide medication if a client has tested positive for HIV or STIs. This is why after making their first visit to the main hospital for counseling and guidance, those that are found to be HIV positive can come to the Drop In Center for ARV refill and those who test positive for STIs can easily be put on medication right here at our clinic. Of course after a while, those who collect their ARV refills from here are required to go back to the main hospital for evaluation."
Maria Nantale showed us a music system that they have at the clinic. She said "We rent these out for birthday parties or other simple events so we can make some money to cater for our day to day needs at office." We do not have many clients at the moment but with time, we hope this side business picks up because we need the money." Maria spoke of how the Mbale city authorities keep on harassing them, demanding that they set up a billboard at their gate to show what services ERWEO offers. She says "Unfortunately we do not have the funds yet, we told them to give us a period of two years as we continue to look for funds to put up the billboard, so far we have only 8 months to the end of the grace period we were given, I don't know what will happen at the end of this period if we do not have funds."
Pepe Julian Onziema our Programs Director thanked Maria Nantale for the work well done he said "The music system is a genius idea that will enable ERWEO to pay some bills like electricity or water bills. Hopefully the business will grow. I congratulate you upon maintaining your stronghold in Mbale, I wish you all the best going forth."
Richard Lusimbo vowed SMUG's continued partnership with ERWEO, "We admire and support the amazing work you do, we will continue engaging with you and supporting you when we can."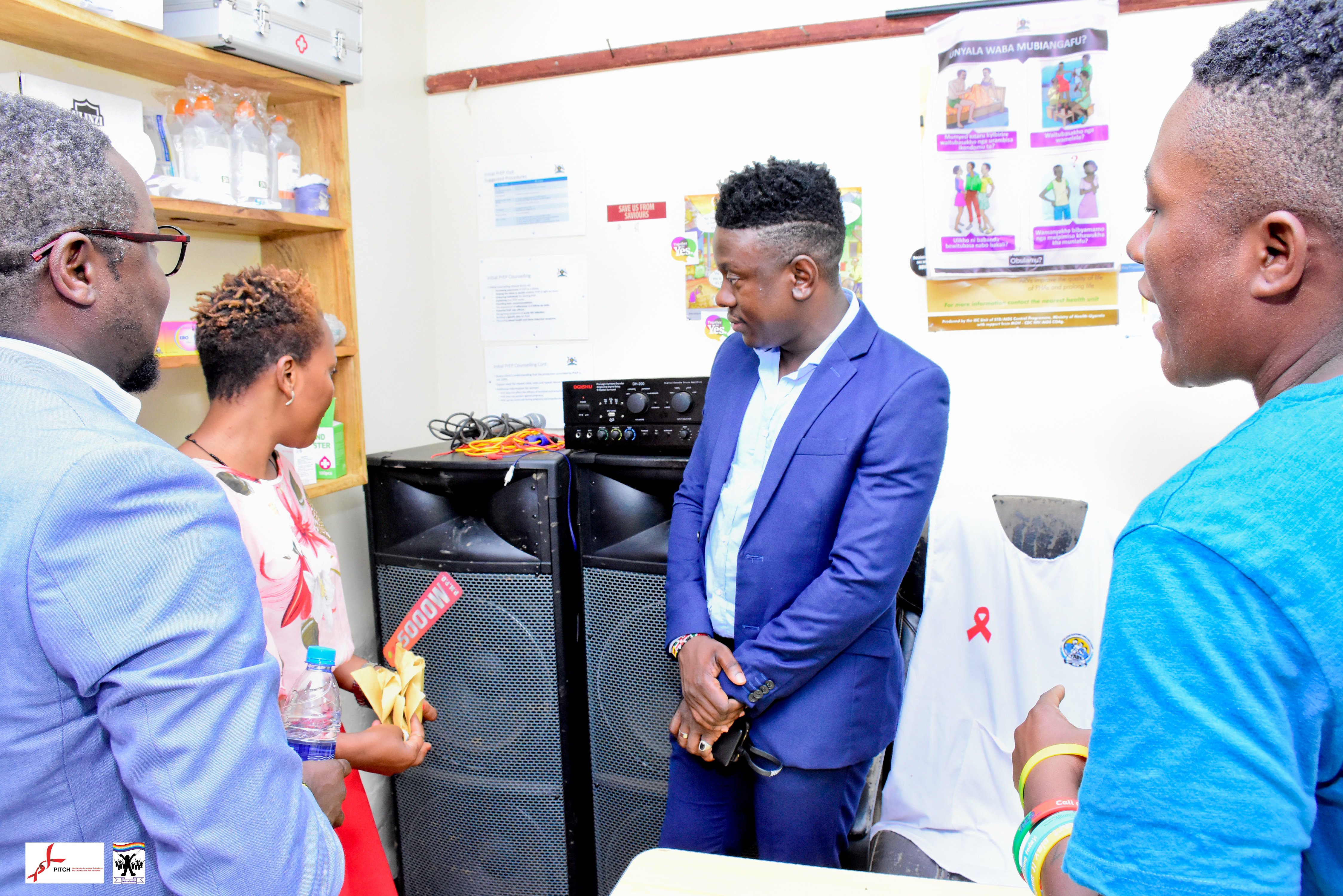 "I need to see more ownership of our spaces, I need to see more branding and publications by Hope Mbale." Said Pepe Julian Onziema while visiting Hope Mbale Offices.
According to Bernard Wasike the Executive Director Hope Mpale, the newly purchased office premises feels more like home because the former owners do not stay in the area and hence nobody has the mandate to question the organization about what their activities are. "Although we have not finished construction, we feel at home already. Very soon we will put up a fence and gate around our offices and then we will finally settle in feeling safer as we continue with our advocacy work."
Benard added; "I am proud to inform you that we now have a team of full staff including a community paralegal who sits in this office. She has been instrumental when it comes to documenting police cases against our members; she also helps escort them to the police station and interpret for them their charges so that they do not find them in a situation where they can face additional trumped up charges due to their lack of comprehensive knowledge about the laws."
Richard Lusimbo urged Hope Mbale staff to keep on engaging with SMUG staff. "If you need any assistance please do not hesitate to contact us, we are here for you."
SMUG communications officer exchanged contacts with  Hope Mbale communications officer in a bid to continue building each others capacity for better advocacy both online and offline.
The organizational visits were concluded with dinner where SMUG staff got to meet with other LGBTQ people from the Eastern Region of Uganda. Overall they were happy to be part of the dinner and thanked SMUG for engaging them and including them in programming.