Sexual Minorities Uganda (SMUG) engaged with Right Here Right Now(RHRN) platform members in Uganda. The dialogue was meant to inform platform members on the various issues of Sexual and Reproductive Health Rights (SRHR) that affect Lesbian Gay Bisexual Transgender Intersex and Queer persons in the country.
While giving his welcome remarks, Dr Frank Mugisha our Executive Director said; "We are privileged to be part of this platform. This is a safe space we hope you become very good ambassadors in terms of giving people appropriate information about LGBTIQ people."
The National coordinator RHRN Robert Ocaya thanked SMUG for putting the meeting together; "We are hopeful that we will grow stronger and carry this information the right way. I'm looking for a fruitful discussion that will help us put our agendas together as a group. The environment we are working in changes, we should not sleep but get ready to encounter each issue as it comes."
Dr Anne Alal Sizomu  RHRN Regional advisor for Africa. This is an opportunity to learn from our friends who have lived through these realities. Inclusivity, diversity, security and communication are important in our work.  We need to understand our diversity because we are not working with only one particular issue. Some information can hurt others, it is important to check on each other and hold dialogues for support. Be each other's keeper, take this opportunity to learn. SMUG has set a pace and what we get out of here depends on how you as a participant focus on the training.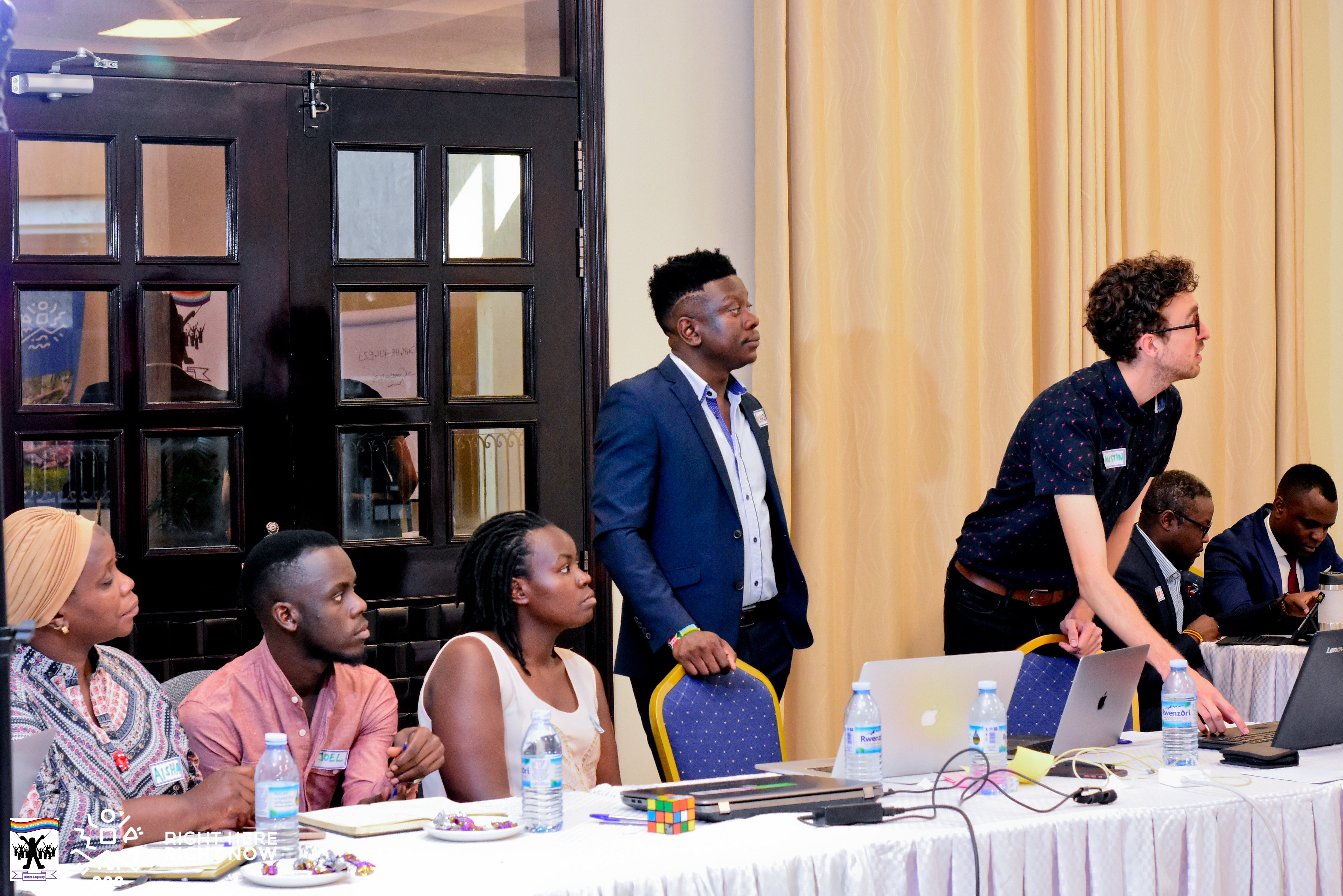 While engaging participants on their expectations; our PD Pepe Julian Onziema urged the participants to feel free and engage without fear. "It is okay to ask those questions you feel are hard to ask, we are here to address all that today.
The participants' expectations included; fear that time won't be enough to address all SOGIE issues, losing friends because of sexual orientation, raids due to recent public display of homophobia, re-introduction of Anti Homosexuality Act,being misunderstood as a transgender man among others.
Participants hoped; to know more about SOGIE acronyms, how to link SRHR with SOGIE for advocacy,how to address SOGIE issues, learn how to engage media on social issues especially young SOGIE.
Our Research and Documentation officer while contributing to the panel discussion that focused on explaining the LGBTIQ acronym said; "We live in a binary system that believes the "norm" is about the existence of male and female genders, this is why midwives feel the need to slap a tab on new born babies, one can only be either a baby boy or baby girl. They do not give space for anything in between or something else. In life we are not given time to choose who we are, this is why when transgender people and intersex people tend to grow up and become who they feel they really are hence the gender transition."
By the end of the training, participants were confident that they could represent Sexual Orientation and Gender Identity issues within Uganda. They were well versed with explaining the LGBTI acronyms.