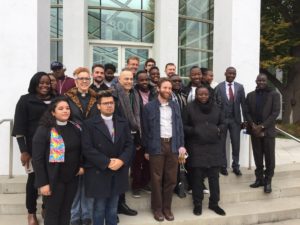 SMUG staff and supporters after oral arguments in the case against Scott Lively.
November 9, 2016, Springfield, MA – Today, Sexual Minorities Uganda (SMUG), represented by the Center for Constitutional Rights (CCR) and co-counsel, appeared in court to argue that a federal lawsuit against Abiding Truth Ministries President Scott Lively must go to trial. Twelve members of SMUG traveled from Uganda for the argument, and one activist came from Latvia, where Lively has also worked to deprive the lesbian, gay, bisexual, transgender, and intersex (LGBTI) community of their fundamental rights.
The case, Sexual Minorities Uganda v. Lively, alleges that Lively's active participation in the effort aimed at revoking fundamental rights from LGBTI persons in Uganda renders him liable for persecution, a crime against humanity. Lively failed to have the case dismissed outright in 2013 and is now, after three years of discovery and depositions, seeking summary judgment to keep itt from going to trial.
"We have overwhelming evidence in this case that the persecution of the LGBTI community is rampant in Uganda and Scott Lively worked closely with other anti-gay leaders in our country to deprive us of our fundamental human rights," said SMUG Executive Director Dr Frank Mugisha, who was one of the LGBTI activists arrested in August during a violent police raid of a Pride event. "We hope the judge will rule in our favor and allow our case to go to trial so we can bring Scott Lively to justice for what he has done to our community."
In August, SMUG submitted an extensive filing with more than 200 exhibits of evidence documenting the widespread and systematic persecution of LGBTI people in Uganda and the keyrole that Scott Lively played alongside Ugandan actors in bringing it about.
"Lively's own documents show how he and his close associates worked to criminalize not just the LGBTI community's existence but any possibility of advocating for their right to exist," said CCR Senior Staff Attorney Pam Spees. "SMUG and the LGBTI community have stood tall in the face of such targeted oppression and degradation, and they deserve their day in court."
"Lively's persecutory efforts exploited a long history of Western homophobia in Uganda, beginning with colonization by the British," said Rutgers Law professor and Center for Constitutional Rights co-counsel Jeena Shah. "The evidence demonstrates that Lively worked to erase LGBTI Ugandans from civil and political life – a threat to the fundamental and universal right to self-determination."
The lawsuit against Lively was filed in March 2012. SMUG is suing him for his work with Ugandan anti-gay leaders to systematically deprive the LGBTI community of their fundamental rights in violation of international law. The case affirmed an important legal principle that arose from Nuremberg, when the court ruled, in a historic decision denying Lively's motion to dismiss, that persecution on the basis of any group identity, including sexual orientation and gender identity, is a crime against humanity – a serious crime under international law.
To learn more, visit CCR's case page.
Sexual Minorities Uganda is represented by Center for Constitutional Rights and Jeena Shah of the International Human Rights Clinic at Rutgers Law School in Newark, the law firm of Dorsey & Whitney, LLP, Christopher Betke, Luke Ryan, and Judith Chomsky.
Sexual Minorities Uganda (SMUG) is non-profit umbrella organization for LGBTQI advocacy groups in Uganda. SMUG was founded in 2004 and the network currently comprises 18 organizations in Uganda offering counseling, health, and other services, to the LGBTQI community. As an umbrella entity, SMUG also works closely with international human rights organizations to bring attention to the persecution of LGBTI people in Uganda.
The Center for Constitutional Rights is dedicated to advancing and protecting the rights guaranteed by the United States Constitution and the Universal Declaration of Human Rights. Founded in 1966 by attorneys who represented civil rights movements in the South, CCR is a non-profit legal and educational organization committed to the creative use of law as a positive force for social change. Follow @SMUG2004 & @theCCR.