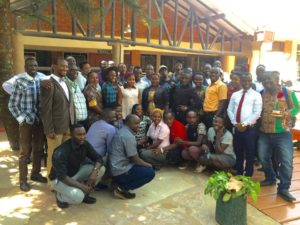 Participants group photo.
Sexual Minorities Uganda-SMUG together with Most At Risk Populations Network Limited–MARPS Network held a one day consensus building meeting in a bid to ensure that Key Persons community issues are well understood and clearly articulated for consideration on the Global Fund concept note writing process.
Speaking at the opening of the meeting Dr Frank Mugisha SMUG Executive Director said it is important that more of such meetings are held so that Key Persons populations can work together.
Mr Geoffrey Mujisha the Executive Director MARPS Network urged participants to base the discussion of the day on the understanding that whatever would be discussed would benefit the nation.
The CCM representative to the Uganda Coordinating Mechanism –UCCM said the will to disagree too different views in a respectable manner at the forum has gone up. "Now that we are being consulted in a dignified manner it is time for us to come together and present our concerns." Said Mr Kikonyogo Ngatya. He urged stakeholders to utilize the funds extensively because there is absorption of resources countrywide. He made the comments while giving the overview of the Global Fund processes report.
During the Q and A session a participant asked Mr Kikonyogo Ngatya what his main challenge is as the CCM key persons representative. He said his biggest challenge is working with bureaucrats who see him as a threat, adding that "My life is at threat because I cannot keep quiet while injustices are being committed, several attempts have been made at my life." He mentioned depression as another challenge that he faces, "How can one get billions of money and keep it in an account while others suffer?" he wondered.
Another participant was concerned by allegations that key persons do not have the ability to handle funds, she said "Please stop sitting on our funds, when our funds come please let us know so we can utilize them fully as key persons."
A participant called for more such engagements saying "We need more of such engagements, key persons are not liberated due to lack of information."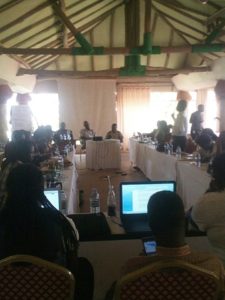 Participants during Q & A
Dr Egesa John Joseph from The AIDs Support Organization-TASO noted that although the Ministry of Health was supposed to buy lubricants and condoms as of 31st December 2016 nothing had been delivered to his knowledge. While he admitted that there have been delays on the government's part he said he had gotten information that the condoms and lubricants were on their way. Dr Egesa was responding to a participant's query as to why condoms and lubricants haven't been bought and distributed to key persons yet they were put on the proposal and approved.
Mr Magina Joseph the Programs Officer Most At Risk Populations Initiative –MARPI urged districts to play their role in implementation of programs by Global Fund because challenges and solutions for key persons vary according to different areas as far as the HIV/AIDs epidemic is concerned adding that that there's need for evidence on whether the program had an impact.
In his closing remarks Mr Pepe Julian Onziema SMUG Programs Director said "This is our first step in demonstrating that we can be responsible, let us take ownership of what the final product will be." "Let us put aside all the differences we have and work together as key persons."